Rhythm Jewellery is where physicality and movement meet design.
Our hand crafted gold and sterling silver pieces represent the dedication it takes, the countless hours, the perseverance and the creativity that lives inside you.  Our hope is that every time you feel our jewellery on your skin or catch a glance of yourself in the mirror, it reminds you of who you are and what you are connected to.
Always and forever a dancer.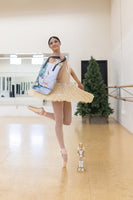 Christmas Collection
This limited edition holiday collection will make you the happiest dancer this side of the Christmas tree. A curated collection of dance inspired holiday gifts that will bring a sparkle to every dancer's smile this holiday season.
Shop Now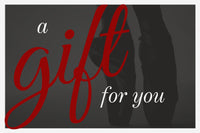 Rhythm Jewellery Gift Cards Now Available
Don't stress about shipping times and which piece of Rhythm is perfect for your dancer. Give the gift of choice with our newly available gift cards.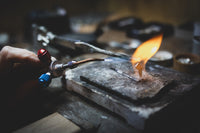 Made By Artists For Artists
Each piece of Rhythm Jewellery is hand finished in our Canadian studio ensuring the highest quality and are designed to last forever, just like your love of dance.
Our Story
Testimonials
This year has been really tough on my daughter. Not being at the studio everyday has been hard. I bought her a piece of your jewelry to remind her that no matter what she is always a dancer. She hasn't taken it off since she got it!

Diane P.
Every time I wear my Reflections necklace it reminds me of all the ballerinas I have taught over the years.

Margaret S.
I am a tapper though and through. I have been looking for years for a beautiful tap dance piece of jewelry and couldn't find one anywhere. Thanks Rhythm, I wear your tap shoe every day!

Janice H.
The most meaningful gift I have ever gotten!

Jaqueline R.
My son is so hard to shop for. He loves dance but I can never find him anything that isn't just for girls. Best birthday gift ever!

Chelsey B.
Tash and her team were absolutely amazing capturing exactly what we were looking for with our custom piece for our inaugural year. They took care of us through every step to make sure we got exactly what we wanted. 

*Custom Competition Jewellery

Dallas S.
Thank you so much for creating this beautiful keepsake for our senior students!

*Custom Studio Jewellery Design

Alexis W.